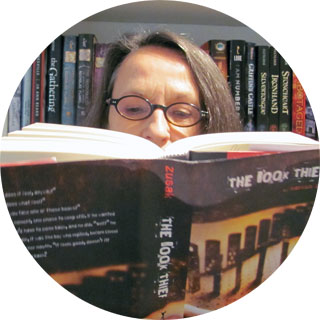 Literary Pursuits
I have never been a writer who suffers from writer's block.
Rather, I am one of those writers who suffers from what I call writer's jam. I have so many intriguing projects to work on, what should I do first?
It's like the initial feeling when you enter the Art Institute of Chicago and think, "Where do I go first?" There are so many wonderful choices. Should I go to the miniature rooms downstairs, to the French Impressionists, or to the current exhibit?
The many creative projects pull me in different directions and jam my writer's brain.
The best antidote for writer's jam is to start writing. The right side of your brain will figure out the proper direction.
Here are a few intriguing projects I am currently working on.
For The Tutoring Academy, I have developed a popular writing program for the middle grades, which is proving to be a wonderful tool for enriching student writing. The workbook, Exploring the Writing Traits, is a step-by-step approach employed to enhance writing skills. Parents appreciate it and students love the creative exercises, which coincide with the trait we are studying. I am thrilled with the results—the student work is impressive and they enjoy the workbook and look forward to our time together. Learning should be fun and writing is another art form helping students reach new creative heights and improve their writing skills in all of the writing modes.
Many of my students have won international writing awards and been accepted into impressive schools, excellent colleges, and prestigious universities.
The hands-on success is evidence my method works and I plan to pitch Exploring the Writing Traits to educational publishers at my next writing conference.
I also have a fun series of early chapter books featuring two unlikely animal friends, Daphne and Priscilla.
Daphne is a slightly chubby super-sleuth, miniature dachshund with a psychic nose. She's like a private investigator: she can sniff out anything.
Her gorgeous sidekick, Priscilla, is a haughty, high-maintenance calico cat, who practices yoga, is a vegetarian, swings like a trapeze artist, and sleeps in expensive bowls.
After a rather harrowing introduction, the two animals become the best of friends. Good thing, given their human guardians—10-year-old Todd Michael, who's obsessed with Googling; 8-year-old Sally, animal lover; warmhearted Nanny; and dog walker, Mitzi the Lovable Ditzi—need all the help they can get.
The Daphne and Priscilla series hearkens back to Harold and Chester of Bunnicula fame—without the vampire bunny, but with plenty of hapless humans making wacky mistakes Daphne and Priscilla must unravel while providing a fair amount of bedlam on their own.
The creative project, which never leaves me, is my memoir about my painful and tumultuous first marriage.
The book chose me. I didn't choose it. Even when I'm working on something else, it rides on my shoulder like a whispering parrot and takes up residence in a fair amount of brain space.
I originally wrote this story as a novel to complete my MFA and called it Strawberry Fields Forever. After much agonizing, reading and writing experimentation, I finally decided to turn the story into a memoir. It's a true story so why not? The truth is not always easy to write, and the truth of this story is painful, explosive, and a tale many people would choose to keep hidden. But from the time I started writing the story, it stayed with me and followed me around like a current of warm air, the sensation prickling my insides and sometimes jolting me, shock-like, to get back to work.
This powerful source compels me to move forward whether I want to or not.
The story is complex, harrowing, painful, exhilarating, and much of it informed by two major accidents—one rather miraculous and one tragic—with a fair amount of bad behavior, denial, betrayal, addiction, survival, grief, sadness, joy, growth, discovery, and renewal layered in between.
It wasn't a boring marriage.
My young partner and I are products of small town Catholic tradition and meet in the late 60's while attempting to define our lives and find balance in a tumultuous era. In some ways, our relationship mirrors the times—straddling two different periods: the conservative 50's and the revolutionary 60's, in a struggle for dark vs. light, and finding identity and spiritual grounding in a society rocked by turbulence.
The book is almost complete, but until it is out in the universe, I hesitate to relay any more spoilers.
###
My reading life is a lot like my writing life. I often ponder which wonderful book should I read today? Memoir? Fiction? Biography? It's hard to decide, so I'm usually reading four books at one time, depending on my mood. I lean toward what feels right in the moment. One of my greatest joys in life, after completing a satisfying read, is to grab more books off the shelf, sit down with a steaming cup of hot tea and choose which engaging story I'll immerse myself in next. The joy of reading is a lifetime gift.
Favorite Fiction
Here are my favorite reads of late—check out my blog for an updated list.
Picture Books
The Day the Babies Crawled Away by Peggy Rathmann
Officer Buckle and Gloria by Peggy Rathman
The Secret Circus by Johanna Wright
My Mama Had a Dancing Heart by Libba Moore Gray


Middle Grade
Chasing Vermeer by Blue Balliett
Shakespeare's Secret by Elise Broach
The Penderwicks by Jeanne Birdsall
The Willoughbys by Lois Lowry


Young Adult
Before I Fall by Lauren Oliver
If I Stay by Gayle Forman
The Lonely Hearts Club by Elizabeth Eulberg
What I Saw and How I Lied by Judy Blundell


Adult Fiction Books
A Short History of Women by Kate Walbert
Blame by Michelle Huneven
Heroic Measures by Jill Ciment
The Art of Racing in the Rain by Garth Stein